Shunxin NPK fertilizer production line is applied for producing complex fertilizers. The common raw material of simple fertilizers are like DAP (Ammonium Phosphate) / MAP (Mono-ammonium Phosphate) / SOP (Potassium Sulphate), etc. There are some process designs for the NPK fertilizer production line based on the corresponding working principle. The fertilizer manufacturer can adopt the Compacting granulation process, the Drum granulation process, or Disc granulation process, etc.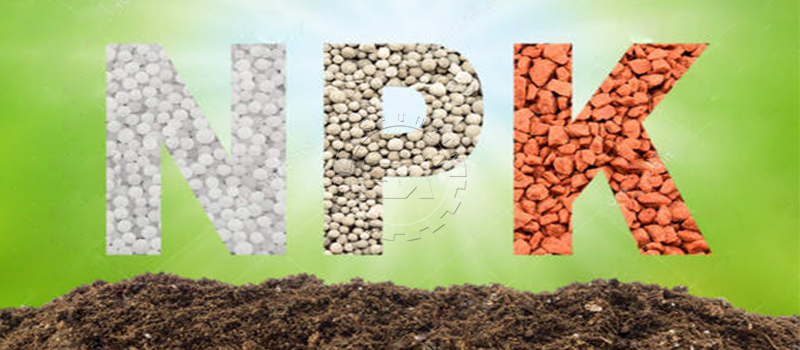 NPK fertilizer is one kind of Inorganic fertilizer or Artificial fertilizer. It contains 2 or all of the N(Nitrogen), P(Phosphorus), and K(Potassium) nutrients inside. The NPK fertilizer performs very well with good effect. Most farmers and gardeners apply it for vegetables, flowers, crops, and plants to improve agricultural output. As a result, NPK fertilizer products share a big part in the fertilizer market.
With a low production cost, the NPK fertilizer production line has won the favor of many businessmen. It can bring high economic benefits fast. Many fertilizer customers cooperate on NPK fertilizer production projects with Shunxin facility in the business.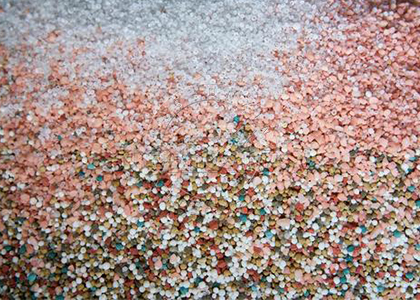 II. How Shunxin NPK fertilizer production line works to produce the NPK fertilizers?
Based on the kinds and weight of your raw NPK material, Shunxin machinery can design a special project plan for NPK fertilizer production for you. Take below our 9~10t/h NPK fertilizer granulation project in Indonesia as an example, it is one of our production plans on different requirements from the customers, please check it through to know better about the NPK fertilizer production line.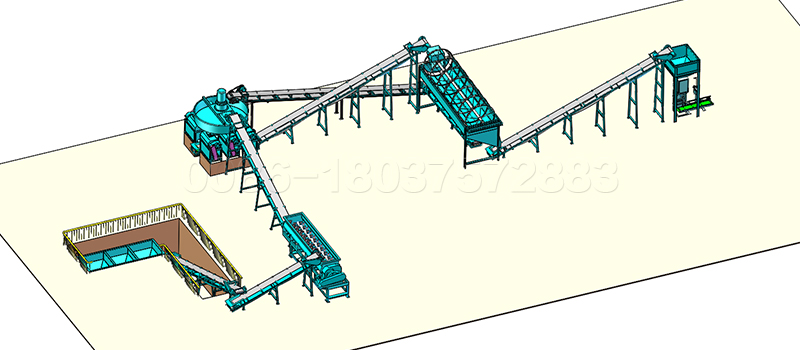 1. 6 kinds of powdery single fertilizers are applied as raw materials in the NPK fertilizer production line. They are loaded for uniform and quantitative batching together into the hoppers of Shunxin Automatic Dynamic Batching Machine under PLC control.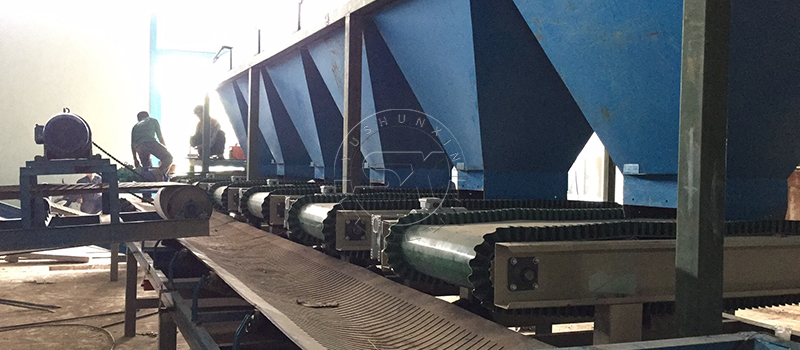 3. The Shunxin Disc Distributors receives the NPK powder mixture discharged from the Mixing Machine and feeds it into the group of granulators.
5. Our Indonesian customer prefers a better-looking on the pellets. So a group of 2 Shunxin Polishing machines matched with the production capacity has been designed into the NPK fertilizer production project configuration to make it from oblate to a round shape.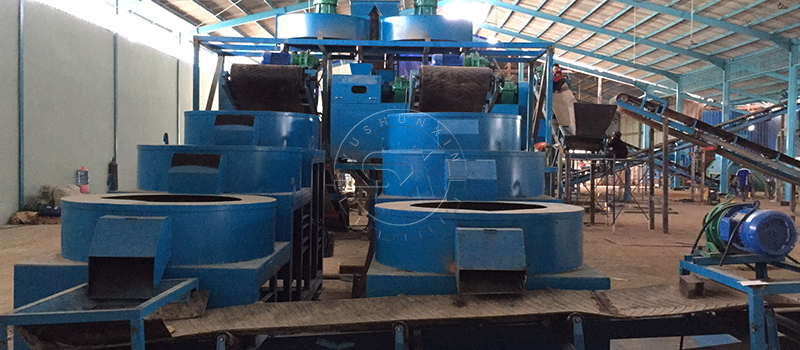 6. After screening out the unqualified pellets and powder back for re-granulation by the Shunxin Screening Machine, the qualified NPK fertilizer pellets get conveyed to the capacity-matched Shunxin Buffering Hopper to be packaged into bags by the Shunxin Packing Machine as needed.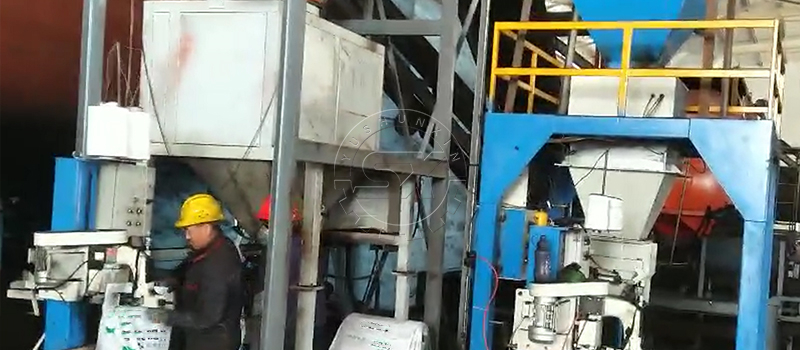 III. More information about the above Shunxin NPK fertilizer production project
Raw material: MAP mixed with other 5 kinds of ingredients;
Output capacity: 9~10 tons/hour;
Power consumption: about 300kw;
Manpower needed: 4~5 people;
Warehouse size: 80m*40m*(6~8)m.
IV. Equipment option for different output fertilizer capacities
We also provide Shunxin Rotary Drum Granulator to process the NPK fertilizer production, with a capacity range of the single machine from 1t/h to 20t/h. It's a more common used machine type at a lower cost for large scale manufacturing.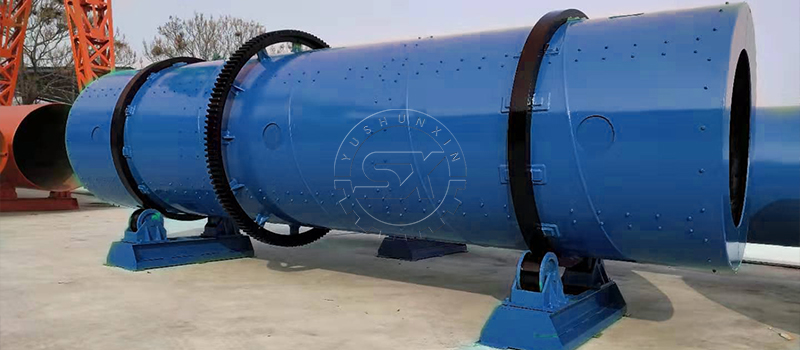 V. What else kind of raw material can be processed with Shunxin NPK fertilizer production line?
The most common kinds of raw materials Shunxin NPK fertilizer production line can make from are Urea, DAP(Ammonium Phosphate) and MOP(Potassium Chloride). Some customers choose to use other kinds of ingredients like DCP(Dibasic Calcium Phosphate), MAP(Mono-ammonium Phosphate), MKP(Mono-potassium Phosphate), PN(Potassium Nitrate), SOA(Ammonium Sulphate), SSP(Single Super Phosphate) and TSP(Triple Super Phosphate), etc.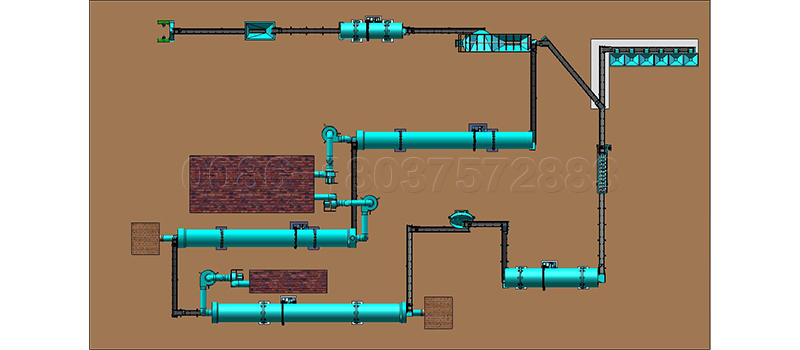 Professional technical team of Shunxin machinery will design the most suitable project plan for your NPK fertilizer production. With our high-quality machines and high-level services, we will bring to your NPK fertilizer project a bright business.