Many people want to know that what fertilizer products can be made from cow dung for profit. Even in small and medium-sized cattle farms, the manure produced every year is considerable. It can be used for a variety of purposes, for example, applied to economic crops after simple dehydration; used for the growth of crops after compost fermentation; or made into organic fertilizer for mushroom cultivation or earthworm propagation, etc.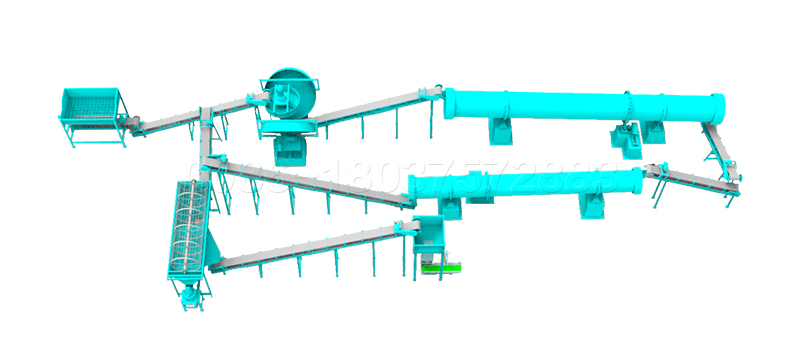 Lot of farmers are more interested in how to make organic fertilizer from cow dung. The key to the answer to this question lies in choosing the right equipment for different processing requests. Shunxin Machinery has designed a variety of fertilizer equipment of various models to support your various cow dung treatment needs.
Top Listed Machines in Cow Dung Disposal
Shunxin Cow Dung Solid-liquid Separator Machine: designed for your raw cow dung with high water content
Taking screw extrusion as the main working principle, Shunxin cow dung solid-liquid separator can dehydrate wet cow dung raw materials from water content higher than 60~70% to below 30~40%, so it is also called Shunxin Cow Dung Extruder, Shunxin Dry-wet Separator, Shunxin Wet Manure Dehydrator, etc. The dehydrated cow dung raw materials can be directly used for feeding fish, preparing potting soil for flower and plant, etc., and can also be combined with other auxiliary materials for deep processing of organic fertilizer.
According to the different amounts of your raw material of cow dung, Shunxin Machinery has designed several different equipment types and models for you to choose:
1. Shunxin Cow Dung Solid-liquid Dehydrator: This is one of the most commonly selected models in Shunxin dehydration equipment series. Its manure liquid treatment capacity is 10~20m³, which can meet the basic needs of cattle farms of general scale for processing cow dung. There are two ways to operate this dewatering machine: One is to automatically start to dehydrate by manually feeding the cow dung material to the hopper after the equipment is powered on, suitable for small and domestic free-range cattle breeding models, or for dehydration of a small amount of human feces and poultry manure; The other is applying the water pump to automatically suck and feed the manure for dehydration after power-on. The operating output is relatively large, which is suitable for middle and large scale breeding plants.
2. Shunxin Inclined Screen Dewatering Machine: specially designed by our technical team for dehydrating cow dung raw materials with water content higher than 70-80%. The whole body is made of stainless steel, and the stainless steel vibrating screen is used to screen out most of the water in the wet manure pumped in automatically, and the remaining manure slurry will be dewatered by the spiral extrusion part. Working at 40~60m³ per hour, this machine is suitable for dewatering cow dung with high water content or in medium and large scale livestock farms.
3. Shunxin 3-in-1 Manure Separator Machine: A dehydration device out from through analysis and research on customers' feedback. Manually hopper feeding or automatic pump feeding, three conventional dehydration machines technically combined together makes it more efficiently to dehydrate cow dung. The dehydration treatment capacity of this equipment is about 30~60m³ per hour. All parts in contact with the materials are made of stainless steel, which is durable and corrosion-resistant.
Shunxin Cow Dung Compost Turning Machine: committed to better and faster fermentation of your cow dung raw materials
According to many customers' feedback and relevant data statistics, the naturally cow dung composting method takes 4-8 months or even longer with a not-that-good fermentation effect. They want to know how to compost cow dung raw materials faster and better.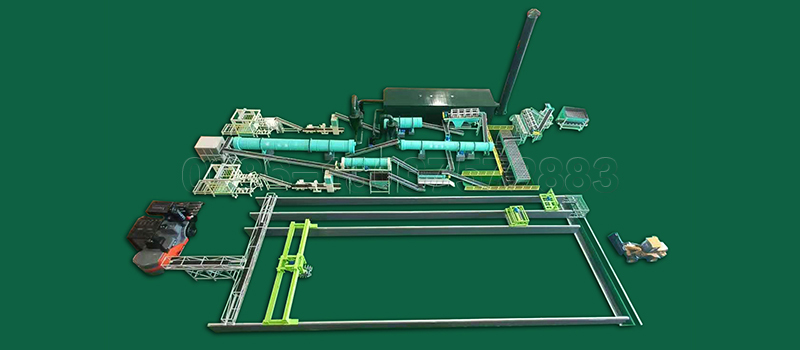 Using Shunxin compost turning machine, you can accelerate the composting time of organic raw materials such as cow dung to about 20 days. The timing mechanical tossing of raw materials through the equipment can release the heat formed in the composting process faster, which can improve the fermentation efficiency and compost quality.
1. Shunxin Moving Type Compost Turning Machine: Simple in design, easy to operate, and free to move. with multiple sets of tossing racks rotating at high speed under the machine body, as long as the operator can drive, Shunxin Moving Turner can turn over the cow dung raw material at about 300~500m³ per hour;
2. Shunxin Crawler Type Turning Machine: With a stronger power and a larger operating capability to act and a larger turning width, the Crawler Turner is also available to customize the cockpit with air conditioning or other devices as required. The turning teeth under the machine body is more powerful at adjustment, Shunxin facility has designed the machine for multiple models working capacity at about 500~1500m³ per hour.
The above two machine types are small at turning processing capacity, so the composting area can be set close to the manure material concentration area near the cattle the breeding farm. There's no need to build the working warehouse/building, just ensure the composting ground is flat and open will be OK. This help cost small and operate conveniently.
3. Shunxin Trough Type Composting Machine: The turning arms of this machine are strong and powerful. Organic materials such as cow dung can be stacked into a strip within the compost channels, which will help accelerate the heat generating and composting process. This equipment can be designed according to the total weight/volume of your raw material to be handled, and available to be operated remotely through control cabinet, simple and safe;
4. Shunxin Roulette Type Turning Machine: The huge turning gear can quickly turn and throw up a large amount of cow dung during the composting process, and the humidity and temperature of the organic materials can be regulated fast. The whole PLC intelligent control makes the operation of this equipment simpler and safer with better composting effect.
The above two types of turning equipment have large processing capacities, and you need to build a corresponding compost area to process your cow dung raw materials. Shunxin Machinery also has many other turning types, and you can calculate the manure amount to be processed according to the number of your cows, so as to determine the most suitable equipment style and model for your processing needs.
Welcome to inform your raw materials, output, email address and WhatsApp number, we will help you to realize your composting plan together. After you have Shunxin equipment, when you hear the question "Where to buy cow dung compost", you can proudly answer "Come to me!"
Shunxin Powder Cow Dung Organic Fertilizer Production Line: in response to the need for powdered organic fertilizers
Shunxin facility provides complete powder organic fertilizer production lines for different cow dung processing outputs. The production line connects all the equipment in series through belt conveyors. Based on the composting treatment introduced above, after professional screening and fine crushing, the powder compost will be finally bagged by a packaging machine then sold to the market as powder cow dung fertilizer to earn considerable profits.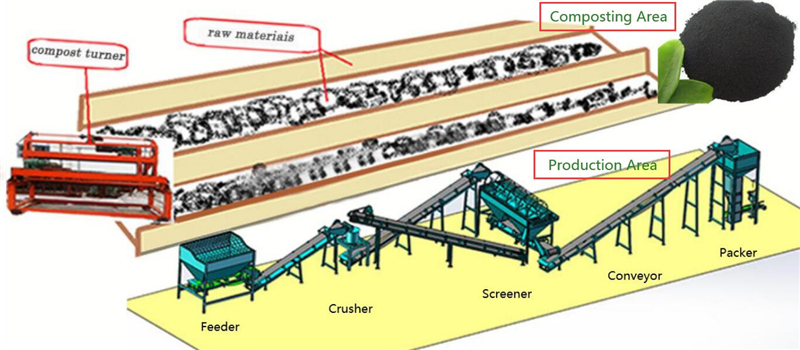 The conventional processing flow of the powder organic fertilizer production line is: Composting – Crushing – Screening – Packaging. If you want to add other auxiliary materials to the cow dung raw material, or other unnecessary matters in the raw material that need to be removed, or the output is large and need to be cached, we can make special adjustments to the production line design according to your specific requirements. The following is a brief introduction of the equipment in the Shunxin Powder Cow Dung Organic Fertilizer Production Line for your reference:
Compost Turning Machine: as described above, to accelerate the composting;
Feeding Machine: to contain fermented cow manure compost and supply it to the next treatment process continuously;
Crushing Machine: to crush the unbroken compost to a fineness suitable for packing;
Screening Machine: to screen out the uncrushed hard block back for re-crushing;
Packing Machine: to pack the qualified cow dung compost powder in bags for sale.
Shunxin Granular Cow Dung Organic Fertilizer Production Line: for large-scale granular organic fertilizer business plan
With hundreds of project operation experiences, thousands of production line designs and veteran technical team, Shunxin facility can provide you with more professional, accurate and flexible design planning. Taking Shunxin facility 's project of 4~6t/h New Type Organic Fertilizer Granulation Production Line in Uzbekistan as an example, please see and feel our excellent product quality, superb technical level and professional after-sales service.
Raw material: cow dung mixed with other manure and straw and other materials;
Process flow: Composting – Feeding – Screening – Crushing – Batching – Mixing – Granulation – Drying – Cooling – Screening – Coating – Packaging;
Involved equipment: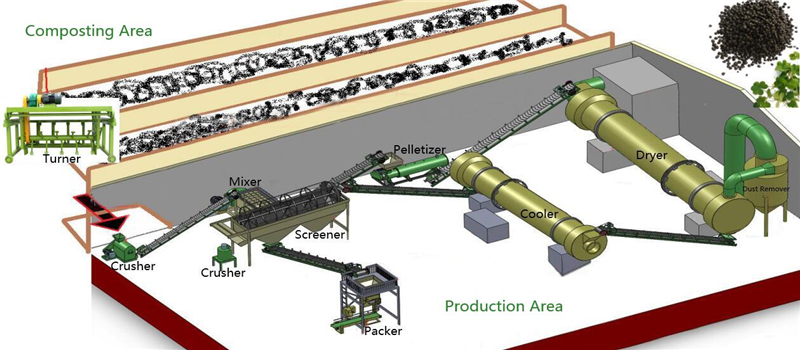 The equipment technology of the Shunxin Powder Cow Dung Organic Fertilizer Production Line except for the powdered packaging machine;
Batching Machine: as seen in the diagram, the fermented cow manure compost is just one of the raw materials used to make granular fertilizer products in this production line. Shunxin batcher can continuously and quantitatively mix other kinds of auxiliary materials at a constant speed;
Mixing Machine: to continuously mix the batched material mixture evenly;
Granulating Machine: to granulate the powder mixture material;
Drying Machine: to remove the humidity during the granulation process;
Cooling Machine: to remove the heat left after the drying process;
Screening Machine: to screen out unsuccessful granulated powder, half-granulated particles, or particle residues broken in previous processes and unqualified large size pellets back for re-crushing and re-granulating, and the particles that meet the requirements to the next process;
Coating Machine: to apply specified materials to coat the finished particles to prevent moisture or going bad, or to extend its storage time, or color it to increase market popularity, etc. according to the actual needs;
Packaging Machine: to pack the coated cow dung organic fertilizer granules product into bags.
So, will your cow dung still be thrown away by you? Can you benefit from your cow dung? Do you know how to answer questions like "Where to buy cow dung fertilizer?"
With Shunxin cow dung fertilizer equipment, you will have the answers to these questions, as well as a new fertilizer world full of precious wealth. Leave your relevant information and start this wonderful journey!