As is well-known, the organic fertilizer is playing a more and more important part in the agricultural production activities. More and more farm owners and investors are planning to establish a new organic fertilizer production project or expanding the current one. An organic fertilizer plant design is connected to many factors. As the very first start of the project, a well-thought-out, well-planned, and well-executed design will allow the organic fertilizer plant to get quickly paid back for the costs and enter a leading position among competitors at the same level. Therefore, for a fast-growing organic fertilizer business shortly, you have to consider them seriously and carefully.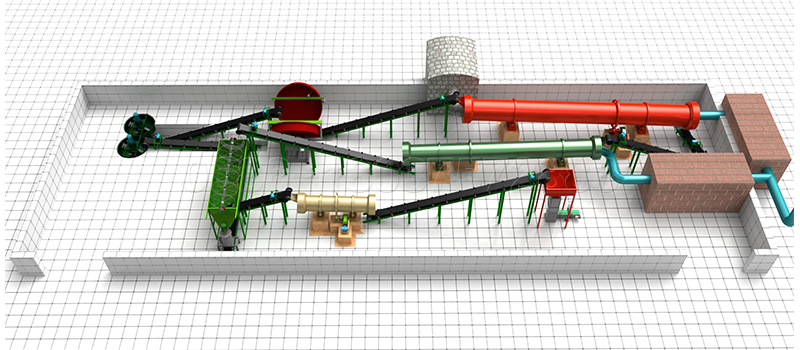 Shunxin machinery has been specialized in the equipment for organic fertilizer projects for more than 20 years. We have established a powerful and professional technical team to design for our clients' organic fertilizer plants. We'll analyze the common factors that influence the design of an organic fertilizer plant from the following aspects, and try to show you the possibilities of better organic fertilizer plant design and contribute to the subsequent production and benefits of organic fertilizer products.
I. The raw material of organic matters is of vital importance to your organic fertilizer plant design.
1. What kinds of organic matters can be taken as the raw material decides the fertilizer production method. Normally livestock manure, domestic sludge, agricultural waste and other solid waste can be used as high-quality raw materials for your production project of organic fertilizers;
2. It is much more cost-saved if you can get the organic materials very cheap and easily. If you have a farm raising many chickens/cows/pigs/sheep, etc., it means the material-collecting cost for your organic fertilizer plant will be ZERO and the plant space and environment of your farm can be under control as well;
3. How much weight/volume of the raw materials to be processed per day determines the equipment models for the fertilizer production. For example, if you have only 1000 chickens in your farm, the number of chicken litters available for your fertilizer production will be small thus equipment models are small as well; while if you can collect cow dung from 500 cows or more, then the plant scale of your organic fertilizer production will be large with larger equipment models and plant size;
Once your raw material and the capacity to be processed per day are confirmed, we can find out the suitable machine models and design a reasonable machine layout according to your plant size.
II. The production process will be different according to the condition of your raw material and your requests on the final fertilizer products.
1. Before getting processed to be fertilizer products, the organic raw materials have to be completely composted and fermented. There are usually 3 ways to make the organic material into compost: stacked-pile way, material-channel type and in-vessel type. And the area needed for this composting process is different based on the daily handling capacity of the raw materials. The same example goes with your cow numbers: one stacked pile will be enough for waste from just 100 cows; while composting in the material channels is a better choice for 500 cows or more; if the plant area is highly limited, you can consider our Fermentation Tank;
2. Besides the composting area, the size of the fertilizer production area is also different according to the final fertilizer product forms you need. Generally, organic fertilizers come in two forms: powdery and granular. And the final fertilizer form determines how the production process goes thus the quantity and layout of the equipment in the organic fertilizer plant. The raw material usually gets crushed and packaged into bags in a powder organic fertilizer plant, while in a granular plant it gets crushed, granulated, dried, cooled then packaged into bags as needed. Therefore, the machines included in the granular organic fertilizer production plant are much more than it in the powder one.
III. The layout of your plant planning and working sections design has to be scientific and professional.
Generally in an organic fertilizer plant design, there are an Administrative area for official activities, an Accommodation area for staff and workers, a Composting area for processing raw materials, a Production area for producing fertilizers, etc. Large-scale fertilizer manufacturers may also set up a Reserve area for more raw material, a Buffering area for composted material, and a Storage area for finished fertilizer products. Manage the layout of these areas well will greatly help the daily production in your organic fertilizer plants and the workers' living condition.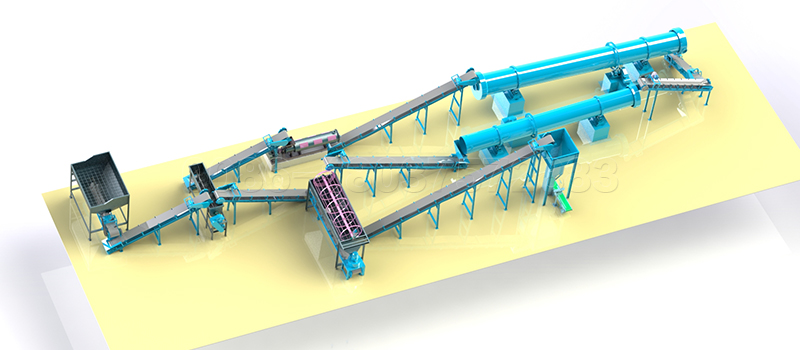 The office and living areas of the staff and workers should be located at the upwind and away from the raw material composting and production areas;
The routes in the factory should be clear and the logistics should be smooth, short but compact yet without any crossing;
The entrance for raw material should be separated from the exit for finished fertilizer product and away from the main plant gate;
The warehouses for raw material storaging, composting, semi-finished product storaging, fertilizer processing, and finished product should be closely and smoothly connected.
IV. The location for your organic fertilizer plant is very important.
1. Transportation around the organic fertilizer production plant has to be convenient and smooth. Fast and safely raw material incomings and product outgoings can save lots of time and money for you from the fertilizer production and sales;
2. Due to its strict epidemic prevention requirements, the plant should be near but not too close to the poultry/livestock farm and the market place, just in case of contamination in between the market area, the material source area and the fertilizer production area;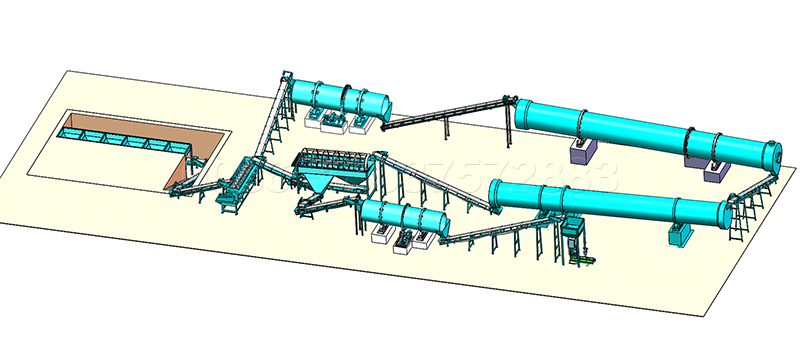 3. If the extra space for potential expanding and supplies of power and water etc. are well sufficient, your organic fertilizer plant can be in good condition for production all the time and you will be benefiting from it safely and continuously;
4. To ensure that the fertilizer plant can always operating in a well-organized and peaceful circumstance, you need to locate the plant in an industrial area away from residential areas and other factories. In this case, surrounding residents and other manufacturers will not be affected by the bad smell of raw materials and complain about your organic fertilizer business.
V. Other potential problems and suggestions for a better organic fertilizer plant design
1. On the bad smell of the raw material, some clients accept our suggestion to apply the in-vessel method for deep and complete fermentation. In this way, people around the plant don't have to suffer from the terrible material odor;
2. In case of sudden power shutdown during the production, you can have an extra generator in your organic fertilizer plant to backup;
3. To prevent the dust floating problem, some of our clients build a closed warehouse for material processing and fertilizer production, and some others follow our advice to add a dedusting system;
4. You can cooperate with agricultural universities and institutions for more professional researches on organic fertilizers. This is a very good way to quickly gain technical knowledge of organic fertilizers and improve the company's reputation and performance;
5. On the final products, we recommend developing a variety of fertilizer products based on different raw materials and formulations, such as organic fertilizers made using only pure organic materials, and organic-inorganic fertilizers produced by combining organic and inorganic materials.
For a suitable and reasonable design for your organic fertilizer plant plan, welcome to share the detailed information about your plan on the organic fertilizer business. Shunxin machinery is at your service with our full attention on the high equipment quality and professional technical support for your project.